Build & Sustainability
Weardale Lithium and Tees Valley Lithium secure £613,000 funding to accelerate battery work
Two firms behind work to drive forward electric vehicle battery development have secured six-figure funding.
Weardale Lithium and Tees Valley Lithium are using a £613,000 package to create a regional production and processing blueprint.
Bosses say the cash – which includes about £430,000 from Innovate UK – will advance feasibility studies and scale-up activities around a battery supply chain industrial hub.
They say it will also help evaluate the potential for Weardale Lithium – which earlier this year extracted the chemical element from underground County Durham brines – to send supplies to Tees Valley Lithium's planned Wilton factory, which is set to produce lithium hydroxide for global battery cell makers.
Stewart Dickson, Weardale Lithium chief executive [pictured, below], said: "To accelerate the adoption of electric vehicles and meet net-zero targets, the UK needs to secure supply of lithium for refining and production of battery-grade lithium products.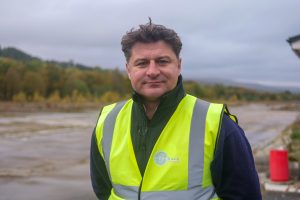 "And having been the first company to produce lithium carbonate from geothermal brines in the North East earlier this year, we are entering a scale-up phase.
"This collaboration with Tees Valley Lithium is highly beneficial for both parties as we seek to advance towards larger scale testing and construction of pilot facilities.
"A local supply of high-value critical mineral products should generate highly skilled science, technology and engineering opportunities while reducing the environmental impacts and supply risks of imported raw materials."
Sam Quinn, Tees Valley Lithium director, added: "We look forward to our collaboration with Weardale Lithium as we seek to bring back high-value manufacturing to the North East, and help develop a potential UK-based supply chain for the lithium sector."