Build & Sustainability
Writing on wall for MGM Construction in Ouseburn project
A construction firm has secured work on a city centre scheme that will preserve a well-known landmark.
MGM Construction is supporting the transformation of Ouseburn's Stables Buildings, in Newcastle, into retail, hospitality and office space.
The project will also secure the legacy of a popular graffiti wall, with sections of the new build set to provide space for artists.
Ryan Gardiner, director at Gateshead-based MGM Construction, said: "The graffiti wall has provided space for local artists to put their stamp on the area without carrying out work illegally.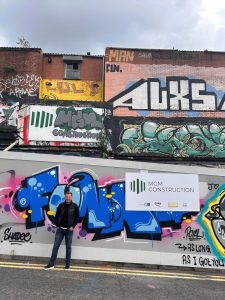 "Throughout the construction phase, we have provided solid hoardings so local artists have somewhere to continue their art, and there are plans to incorporate sections of the new building for artists to put their stamp on."
Ryan added: "We are delighted to be adding value to an already thriving area.
"This is a real opportunity for us to showcase the type of work we can carry out, while having a real positive impact on Ouseburn.
"The idea of retaining as much of the original building and features as possible, while introducing some new concepts including a roof terrace, has generated a real buzz.
"We can't wait to see the final product."