Tech & Trends
ART Health Solutions reveals recruitment plans after AirView Park move
A tech firm is creating jobs after moving to new headquarters.
ART Health Solutions aims to push its ten-strong team to 25 following a switch to AirView Park, next to Newcastle International Airport.
The move builds on £1 million support secured earlier this year to bolster its software, with bosses hailing the office as a "new chapter" in the business' "evolution".
The company, formed by Phill Bell and Paul Smith in 2018 after years of working with top athletes in elite sports science, is known for technology that helps firms boost workplace performance metrics, such as lowering absenteeism.
It is also due to launch the One Wellbeing mobile app later this year, which it says will help optimise employees' health by anonymously monitoring smartphone and fitness tracker data.
Chief executive Phill said: "We're very much looking ahead with great confidence and optimism.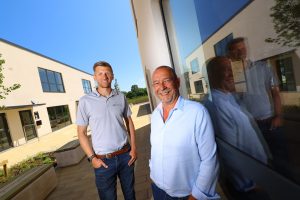 "We are developing a lot of new opportunities in line with a changing economic landscape, new advances in technology and future employer requirements, so it was definitely the right time to make the move.
"We now have a building that is very much in line with our own vision, encourages collaboration and best practice, embraces staff wellbeing and 100 per cent represents who we are as a business."
Mike Clark, development director at Tynexe Commercial, the developer behind AirView Park, added: "This is a fantastic addition.
"If we can keep capitalising on this to help attract other smart, innovative SMEs like ART Health Solutions to the area, AirView Park could possibly become an out-of-town 'tech cluster site' for inward investment while, at the same time, complementing Newcastle city centre's tech scene.
"It's an exciting proposition."