Tech & Trends
Ezoic UK eyeing growth after switch to Newcastle's Portland House
An international tech firm says it will "continue to grow and develop" after an office move.
Ezoic has switched its UK headquarters to Newcastle's Portland House.
Bosses say the shift – from Gateshead's Northern Design Centre – will bolster the company's provision of artificial intelligence to digital publishers.
The firm has signed a 12-year lease for more than 8000sq ft of space at the refurbished city centre base, which was previously home to Newcastle Building Society.
Its arrival follows that of commercial property consultancy Eddisons, maritime and international trade solicitors Mills & Co, barristers Parklane Plowden, recruitment firm Central Employment and wealth manager Raymond James, Monument at the site.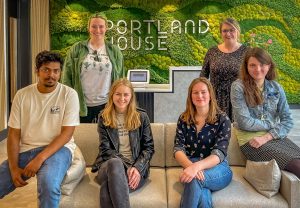 Mike McGuire, Ezoic's UK managing director, said: "We are thrilled to have secured space in this amazing building, from which we can continue to grow and develop our artificial intelligence technology, while retaining and attracting the very best talent.
"The whole city is buzzing, but with its ongoing and further planned developments, this particular area is the perfect choice.
"Newcastle is becoming increasingly important as a UK tech hub, and we're delighted to be a part of that."
James Keegan, who has overseen the redevelopment of Portland House alongside Oliver Holland, added: "We firmly believe in taking environmental responsibility through refurbishing outdated buildings.
"In taking this approach, we avoid releasing significant embodied carbon while still creating an exceptional office environment, as demonstrated at Portland House."