Ideas & Observations
'North East ready to play on global cybersecurity stage', says CyberNorth boss
The North East is primed to lead an international charge to combat cybercriminals, a sector boss has said.
Phil Jackman, director of CyberNorth, says the region "has the talent to play on the global stage" and become a centre of excellence in a multi-billion-pound market.
The optimism follows the successful CyberFest conference, which showcased the area's digital prowess.
Described as the largest occasion of its type in the region, it featured events on women in technology and the relationship between cybersecurity and fintech, a schools debate and the festival-style Aspire CyberFest, where industry leaders and experts addressed guests at Newcastle United's St James' Park.
Phil [pictured, below] said: "Cybersecurity is being taken much more seriously now.
"We're all getting emails involving scams, and the Government has put a lot of effort into trying to raise the problem.
"But there are still a number of issues to address.
"Cybercrime is probably the only crime you're going to be affected by today.
"You might not realise it, but someone in your supply chain will be hit – or attempted to be hit – with some form of fraud.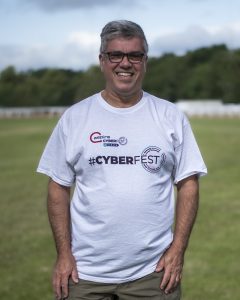 "A lot of companies still think, 'we're too small, it doesn't bother us', but you show me a business that doesn't run on technology these days.
"Cyber protection is vitally important, and the festival allowed us to show the world the North East has the talent to play on the global stage.
"We have businesses and the academics – five highly respected cybersecurity universities in our region – and Newcastle is the only city outside London which has two cybersecurity centres of excellence status.
"We have strength and depth up here, and we are well placed to innovate.
"I am sure there are opportunities for us to be major players in supporting the sectors we are good at, like offshore renewables, advanced manufacturing and the public sector."
But to continue making such strides, Phil says the industry must overcome a substantial skills shortage.
Government and industry schemes are helping make inroads, with CyberNorth having also launched its own initiatives, such as cybersecurity champions and advocates, and a mentor and buddying scheme.
However, Phil says much work remains to be done.
He added: "We're trying to do four things at CyberNorth: raise awareness of cybersecurity and its threat; create more high paid jobs; support existing and new businesses; and address local skills.
"We want to encourage people from diverse backgrounds to come into the sector, particularly women, who are under-represented at the moment.
"We have specific events that will hopefully encourage more young people to get involved, and we're also hoping to launch a shared apprentice scheme, wherein apprentices can work across multiple organisations."