Tech & Trends
Northumbria University moves closer to satellite launch after £5 million boost
The North East is primed to launch the UK's first university-led multi-satellite space mission following £5 million support, education bosses have said.
The UK Space Agency has backed a Northumbria University-fronted consortium to design, test and build a laser communications platform.
Known as CubeSat, it will allow satellites to link via lasers rather than radio frequencies, significantly boosting capacity and data speed.
Bosses from Northumbria University's solar and space physics research group, which is leading the consortium, say the system could launch in 2025.
Professor Eamon Scullion, a solar physicist at Northumbria University [pictured, below], who is leading the project, said: "We are not only bridging the gap between satellites in low Earth orbit, but bridging an even bigger gap between academic research and development and industry."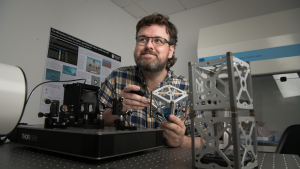 The funding comes after the UK Space Agency awarded more than £1 million to Northumbria University to support earlier phases of inter-satellite communications research via its National Space Innovation Programme.
Through the university's Northumbria Space Technology Laboratory, experts have worked with Durham University, satellite communications organisation e2E and manufacturer SMS Electronics to develop the system.
Professor Robert Wicks, head of Northumbria Space Technology Laboratory and CubeSat development lead –  added: "We are very excited to be designing, building and testing our very own CubeSat mission.
"It is a great way to get our electronic engineering and physics students involved in cutting-edge research."
The consortiu recently expanded to include global aerospace company Lockheed Martin – which joined forces with Northumbria University last year – which has been appointed an engineering development lead.
Nik Smith, Lockheed Martin regional director for UK and Europe, said "We are thrilled to join this programme, to support the satellite communications system's development."