Uncategorised
Newcastle Building Society invests in new West Denton branch
A mutual is investing in a branch expansion it says will further strengthen its commitment to the high street.
Newcastle Building Society is moving its West Denton branch to larger premises.
Work is primed to begin on a site at the heart of Denton Park Centre next month, which will see the conversion of a 1200sq ft space.
Bosses say doors are scheduled to open in the autumn, adding its existing West Denton branch will remain open until its new base is ready.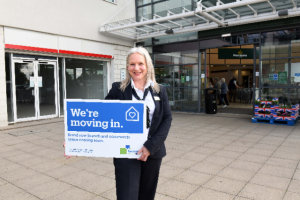 Sam Martlew, manager of Newcastle Building Society's West Denton branch, outside its existing base
Rowlands Gill-based STP Construction, which has supported several of the mutual's previous developments, has been appointed as lead contractor.
Stuart Miller, chief customer officer, said: "We're delighted to be making another long-term commitment to face-to-face financial services and high streets in our region.
"Despite many financial institutions closing branches, we still believe there is strong demand for warm, friendly advice on the high street, which is why we have been investing heavily in our existing branch network and opening new branches, often in towns that had lost their last bank branch.
"It's great to be able to move to a bigger and more accessible space in a busier part of Denton Park Centre, creating a space that will offer customers everything they would expect from a modern financial institution.
"We are hoping to announce more refurbishments and new openings in the coming months."