Business & Economy
Setting the tone for the right workplace culture
At the forefront of mental wellbeing and equality, diversity and inclusion work, Hebburn-headquartered eQuality Solutions Group (eQS) is driving change in the North East business community. Here, chief executive Andy Gough reflects on issues of bullying and discrimination in post-COVID-19 workplaces, and how businesses can create a safe space for their employees to thrive.
In a world where we're constantly being told to 'be kind', we're seeing more and more reports of people coming forward with their own experiences of online bullying and non-inclusive behaviours in the workplace.
Tensions have been high throughout the pandemic, and as we continue to adjust to new ways of working and living, I'd argue that right now, as business leaders, we need to step up and offer support to staff to ensure everyone feels supported when they are at work.
Harassment at work can often go under the radar
Harassment and discrimination can take many forms, from bullying and conflict that creates an uncomfortable and exclusionary working environment, to treating staff in a prejudiced and unreasonable way that hinders their ability to professionally progress.
Combating it is not only a moral priority for businesses, but a legal one; harassment and discrimination are illegal under the Equality Act 2010 and European legislation.
As business leaders, we need to learn to recognise problematic behaviour and take bullying allegations seriously.
For every instance of bullying and harassment raised in an organisation, there are likely to be many more that have gone unreported.
Earlier this year, eQS acquired London-based EW Group, a consultancy that has been a leading specialist in diversity, unconscious bias and inclusive leadership for almost 30 years.
Since extending our services more in the wider topic of equality, diversity and inclusion (EDI), I have been reflecting on how we ensure that we are a truly inclusive and supportive workplace.
As part of the partnership, eQS was delighted that EW Group agreed to lead a full EDI programme to ensure we are operating with high levels of diversity and inclusivity at all levels across the whole group.
Our EDI programme is now well underway and includes an in-depth equality, diversity, and inclusion audit and analysis across all areas of business from recruitment, management, communications, training and more.
This will develop a fully integrated, long-term strategy with training and action plans to ensure that as eQS continues to grow, we do so with business practices that are inclusive and representative of every member of society.
For anyone passionate about driving real change in your workplace, I'd recommend engaging an external specialist such as EW Group.
The training, analysis and consultancy programmes certainly challenge and engage your staff and senior leaders, driving real culture change.
It's never an easy process and it can in fact be incredibly uncomfortable, but it is a necessary one for businesses who are truly committed to leading by example.
Setting the tone for what we really mean by workplace culture
Culture is a word that we have seen used for a long time in the business sphere, and for too long it's a word that has been thrown around by businesses with a pool or ping pong tables, and who also employ an early finish policy on a Friday.
But leaving work early or getting to enjoy your lunch on a beanbag isn't what I'm talking about when I talk about culture.
In a brilliant article for Financial Times, Annie Auerbach reflected on the etymology of the word culture.
She wrote: "The word culture comes from the Latin colere, meaning to cultivate or grow.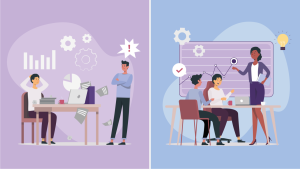 "Like the language of EDI itself, culture is also always in motion.
"It represents the fears and aspirations that shape us and propel us towards how we want to live."
At work, it's key that we understand that we shape the culture around us.
From our board to management teams, we have the power to shape and cultivate supportive cultures through leading by example.
One way that we can do this is by promoting an inclusive working environment.
Back in my September article, I explored how diverse and inclusive workplaces are actually statistically more likely to be innovative and consistently outperform those that are shaped around 'mirror-tocracys' (where echo chambers are created by having a workforce lacking in diversity who share the same outlook and world views).
Providing the right training
We need to set the benchmark, supporting and encouraging our teams and making it clear what behaviours and attitudes will not be tolerated at work.
It is critical that our employees understand the types of behaviour which are unacceptable in the workplace – it's here I'd suggest investing in anti-discrimination and harassment training to help embed this approach.
Responding to individual incidents can only go so far. It is only when the company takes a firm, clear and holistic position on inappropriate behaviours that progress can be made, and inclusive cultures built.
Developing more inclusive behaviours and attitudes through anti-harassment and discrimination training will promote positive practices in your workplace, and drive innovation right across your organisation.
Create the right systems for both reporting incidents and mediation
A clear way of being able to report bullying, and one which can protect the identity of the victim, can go a long way to providing a secure environment in which employees feel supported.
Regardless of the system you put in place, having a clear process that employees can use in order to come forward, will help encourage the behaviour itself and demonstrate to your teams your commitment to eradicating bullying at work.
I'd also suggest considering your in-house and external provision for mediation. There are times in all organisations where workplace conflict or disputes can no longer be resolved in-house, and expert mediation is required. Qualified and expert mediators can provide impartiality and effectively resolve disputes in workplaces where needed.
With these three simple steps, I believe we can quickly begin our journey towards becoming a more supportive and inclusive business, attracting top candidates and a diverse team that will help our business to grow and flourish.
As always, I welcome you to continue the conversation with me on LinkedIn and open this dialogue on how we can lead by example to create an ideal working environment for our teams.
In next month's piece, I will look at how we can improve the workplace, by reflecting on some of the practices we have discussed during 2021 and mapping out an EDI resolution roadmap for 2022